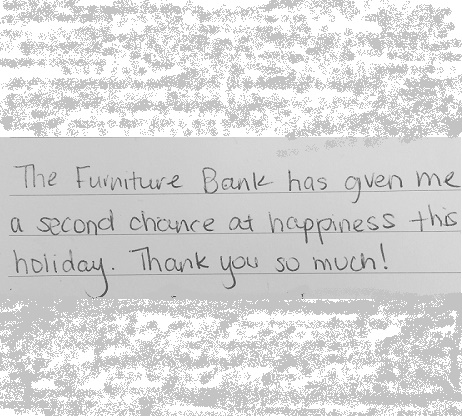 "I've been there. I've slept in my car with my young son," she says. "Ten years ago, I was a Furniture Bank client." Recently, the same woman walked in to the Furniture Bank for a second time.
But not for the reasons you might expect…
Ten years on, she had come back to the Furniture Bank with a "client" of her own. Now a successful business owner, she is also a homeowner and a woman so full of gratitude she gave of her own free time – volunteering with one of the many organizations she devotes herself to – to work with this family in need. She was not paid to leave her house at 6am to make sure her client arrived on time for her 10am "furniture pick out" appointment, picking her up, walking with her as she selected her furniture from our warehouse, and driving her home to await the arrival of our truck. She will not be compensated for the hours spent moving the client through the process so that she and her three children will be sleeping, eating and spending time together somewhere other than on the floor for the first time since June.
Why did she do it? If you could meet her, you would see a woman so full of energy, gratitude and faith. She clearly is not someone who could ignore the needs of a fellow human being. Ten years ago, she says, she got a second chance. She and her son started over. And it is humbling to know that we played even a small part in that. We don't often see our clients once we have served them. Ours is a once-in-a-lifetime program. We are one step in a process aimed at breaking the cycle of homelessness, and we are so grateful for this woman's kindness, for the opportunity to see her, ten years later, settled, happy, and serving others in a profound way.
It probably comes as no surprise to anyone reading this that at this time of year, like so many nonprofits, we are knee-deep in holiday cards and planning. The cold temperatures in our warehouse remind us daily of the cold so many are unable to escape this time of year. We are in a mad rush to serve as many clients as we can before the holidays arrive and doors close in observance. And this gives us pause.
In the midst of the rush, we pause to acknowledge the gratitude we feel to everyone who has made it possible for us to serve the nearly 4000 people in need that we have helped this year. The volunteers who build tables that bring families together or create kitchen kits so that family meals are a real option; the organizations who support us, fund us, refer clients; the steady volunteers who come back week after week and do the hard work; the corporations and professionals who lend their talent when we lack the resources; and our clients. Our clients are the reason we do what we do. They remind us every day that what we do is important to our community. And our community deserves nothing less than our best efforts.
From all of us at the Furniture Bank, Happy Thanksgiving. We are grateful for you.