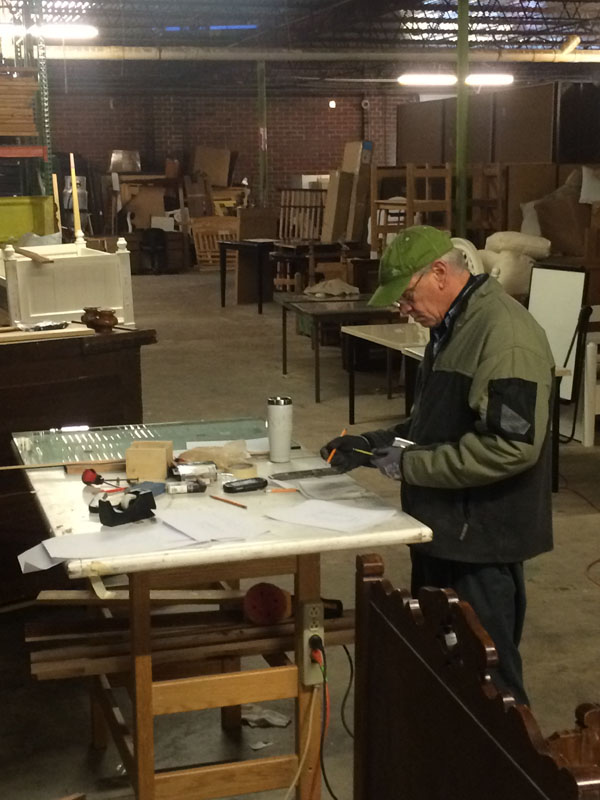 At the Furniture Bank of Metro Atlanta, our primary mission is to recycle gently used furniture from the community, providing it to people coming out of homelessness, fleeing domestic violence, and living with HIV/AIDS. However, many people are not aware of the environmental and employment benefits we provide to the community. Repurposing unwanted household items enables us to keep tons of mattresses and furniture out of landfills each year. Furthermore, we have previously-homeless military veteran interns employed with us who work with materials that would otherwise go to landfills to create functional and decorative pieces for sale and donation.
In partnership with The United Way of Greater Atlanta, The Furniture Bank brings the veterans on as part of the "Hire A Hero Veterans Employment Program," a rigorous 8-week program that provides work experience followed by training that enables them to earn a Commercial Driver's License (CDL) or forklift certification. In addition to working in the Furniture Bank warehouse and on our trucks, enabling us to collect enough furniture to serve over 4000 people a year, the veteran interns make it possible to extend our mission by taking on projects such as furniture repair and bench building; donated headboards and footboards that lack hardware, for example, are transformed into unique and beautiful benches to be sold online or auctioned off at our Annual Chairish the Future Gala on February 27th. Selling non-essential furniture back into the community generates revenue that allows the Furniture Bank to sustain its primary mission. 
In 2014, The Furniture Bank of Metro Atlanta, in partnership with The United Way of Metro Atlanta, trained and connected 20 previously-homeless military veterans to full time employment.
The bench pictured here is one of the beautiful and unique creations made by veteran intern, Robert; it is made from a headboard, footboard and other miscellaneous pieces of wood from furniture that was not salvageable in its original form. Robert says he truly enjoys this opportunity to renew furniture, as much for the challenge of piecing together limited materials as for the chance to express his creativity and release stress. His passion for crafting these original pieces also serves to motivate others to use their creative building skills. Robert finds it satisfying, both physically and mentally, to see the projects as they develop. Formerly a drug rehabilitation counselor, Robert jumped at the opportunity to join the Hire a Hero program to renew his CDL and get back on the road, with the ultimate goal of moving to Washington State where he plans to retire. He is thankful for this opportunity to regain his CDL, develop new skills and give back to the community.