Volunteer at the Furniture Bank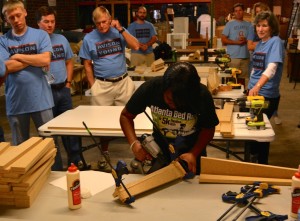 The Furniture Bank of Metro Atlanta relies on volunteer and community support to serve our clients, raise awareness, and assist with coordination/execution of special events and projects. Activities at the Furniture Bank are great for groups as well as individuals!
Our mission is to recycle essential household furniture, giving it to individuals and families moving out of homelessness, fleeing domestic violence, and living with HIV/AIDS. In 2015, we assisted nearly 5,000 people thanks to generous donations of furniture, dollars and time. 
In September 2015, we welcomed Playworks Group and Cox Enterprises for a team table build…
*We are not currently accepting court-ordered community service. Please check back with us as things do change.
Volunteers support our mission in a variety of ways:
(Click on any title below to learn more.)
Shopping With Clients
Organizing, Cleaning Up the Warehouse
Building Tables for Furniture Bank Clients
Hosting a Kitchen Kit or Linen Drive
Assisting with Special Events
Getting the Word Out
Have questions? Ready to sign up?
You may also email questions to volunteer@furniturebankatlanta.org.