Chairish 2018 Artists
Chairish artists "adopt" chairs or other pieces of used furniture from our warehouse and transform them into works of art. The "transformed" furniture will be auctioned at Chairish the Future 2017, a gala fundraiser benefiting the Furniture Bank, February 24, 2017 at The Foundry at Puritan Mill.
Stay tuned as we'll continously be adding more 2018 Chairish artists and artwork.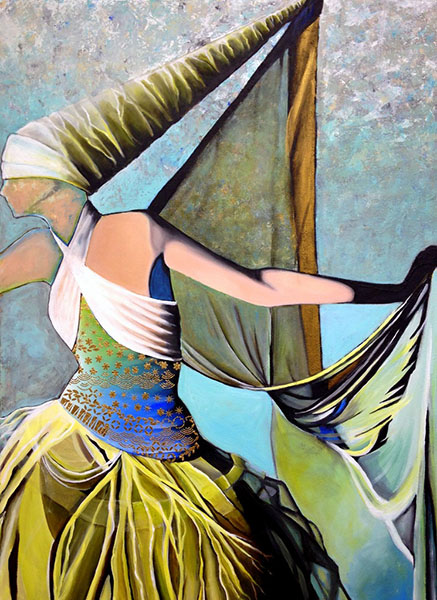 Beth Aronoff
Courtney Aspinwall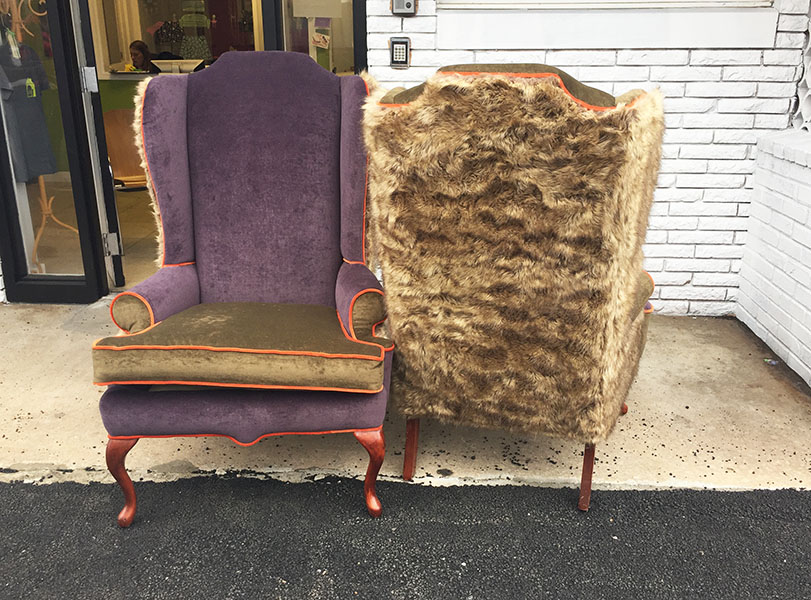 Shean L. Atkins & Jon Papanicolaou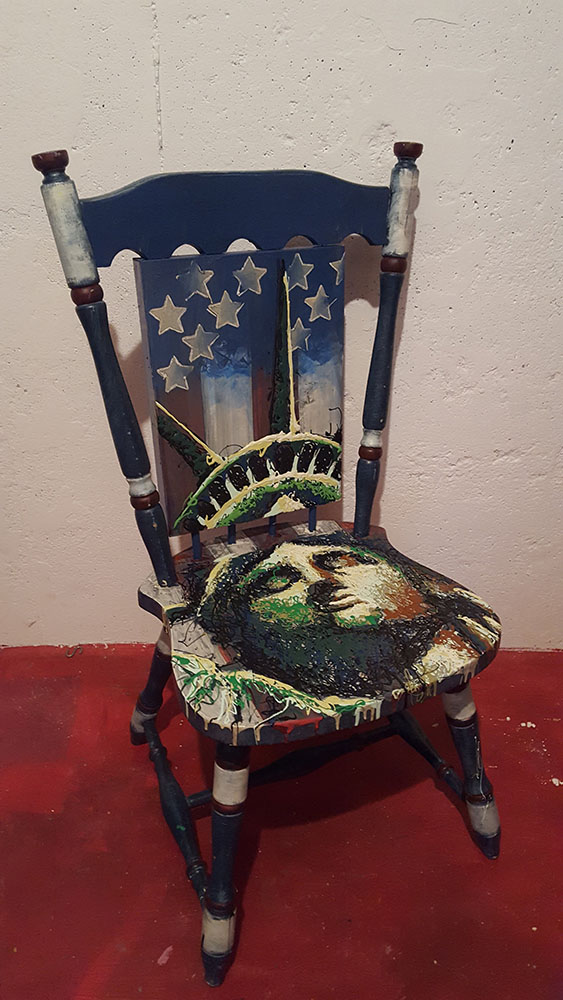 Bolton Art Gallery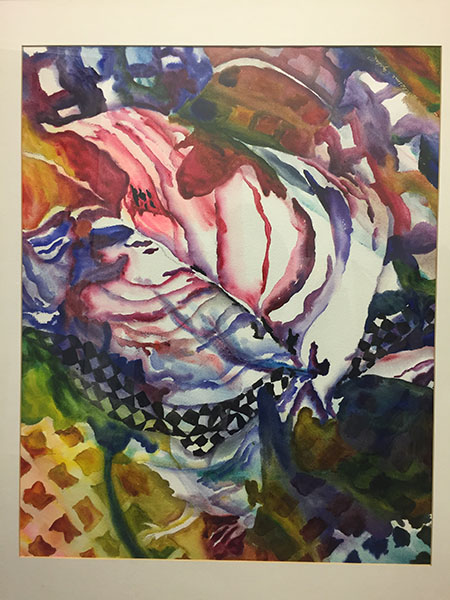 Mary Katherine Capral
Sharon Cavusgil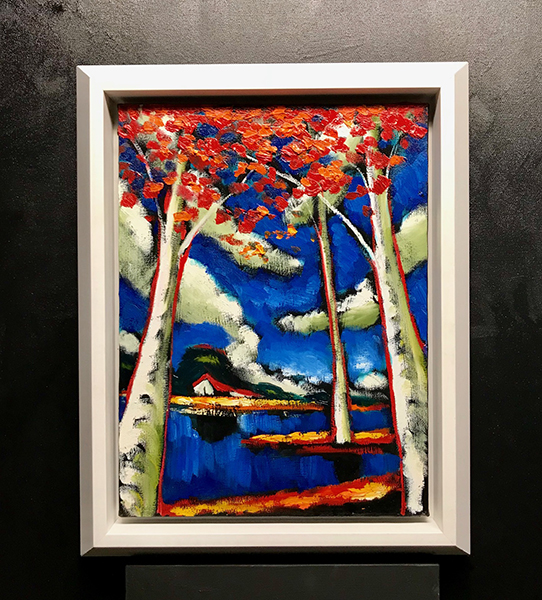 Sergey Cherep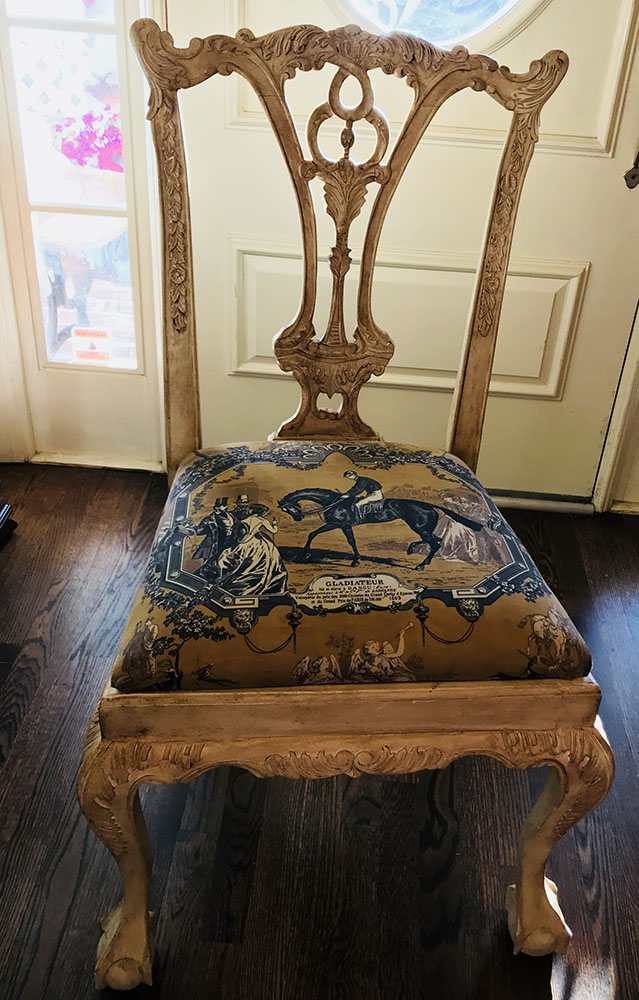 Sheryl Danner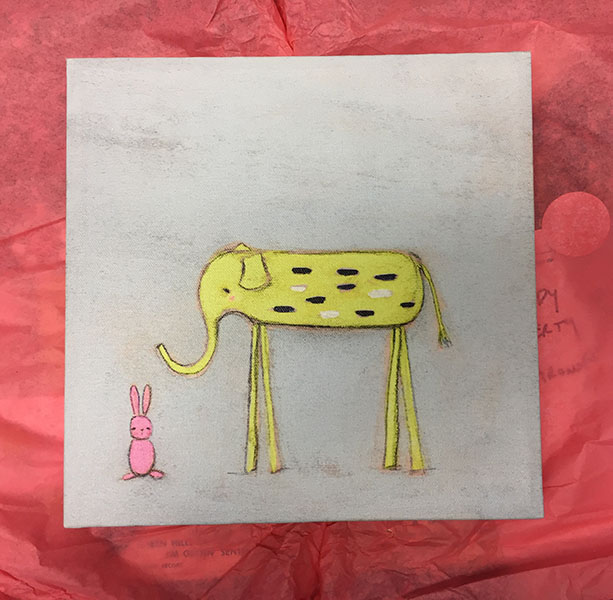 Creative Thursday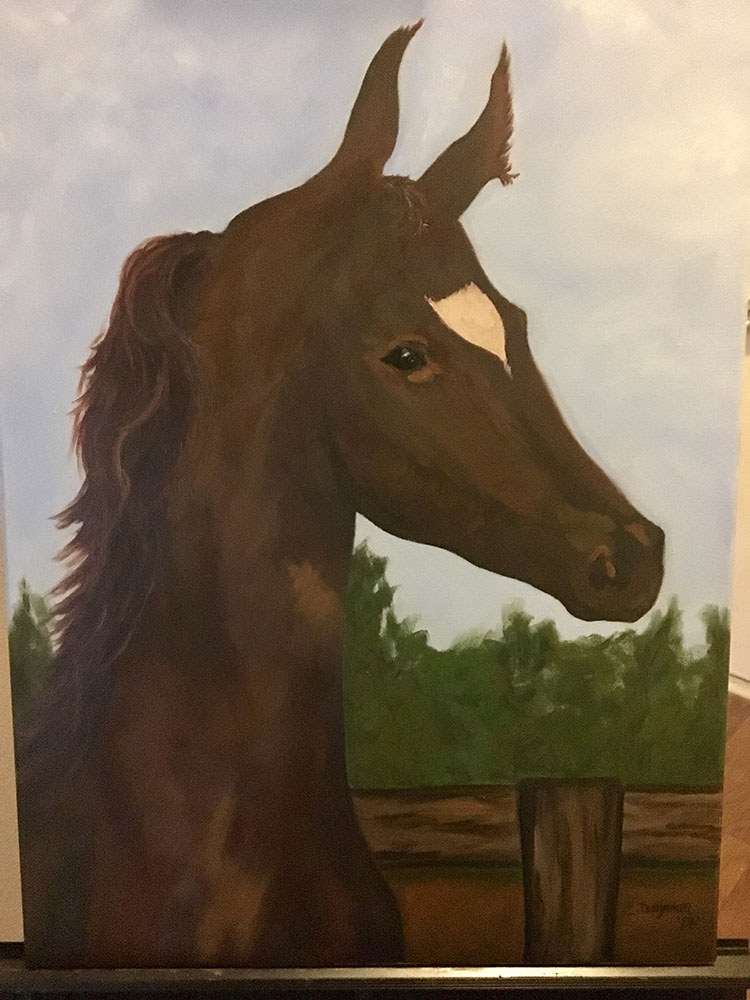 Chelsea Daymon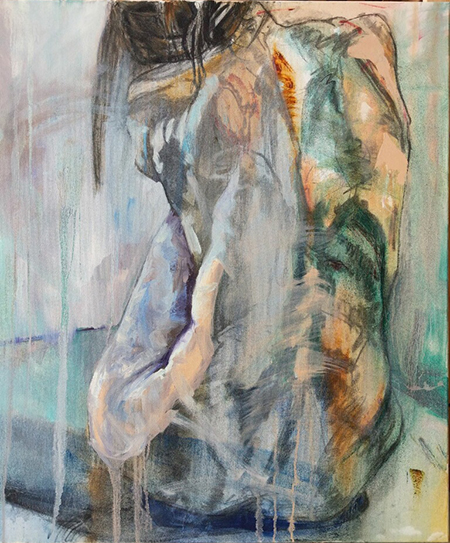 Lainey Dorsey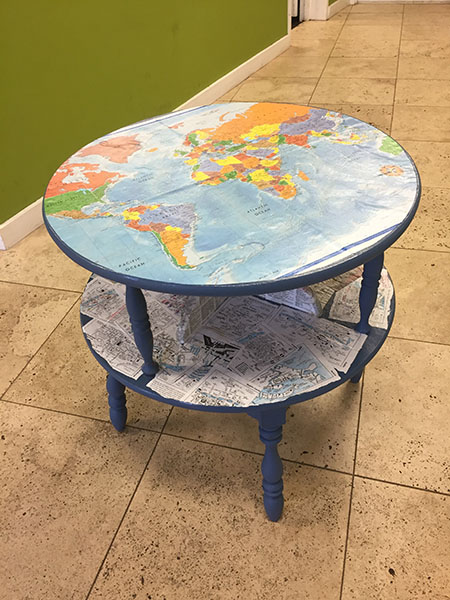 Kim Dowd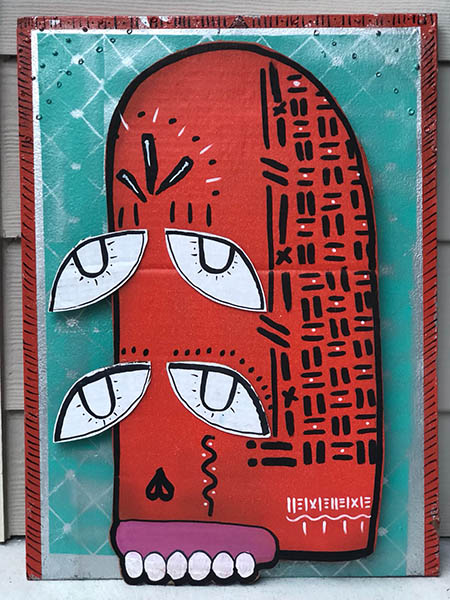 Catalina Duarte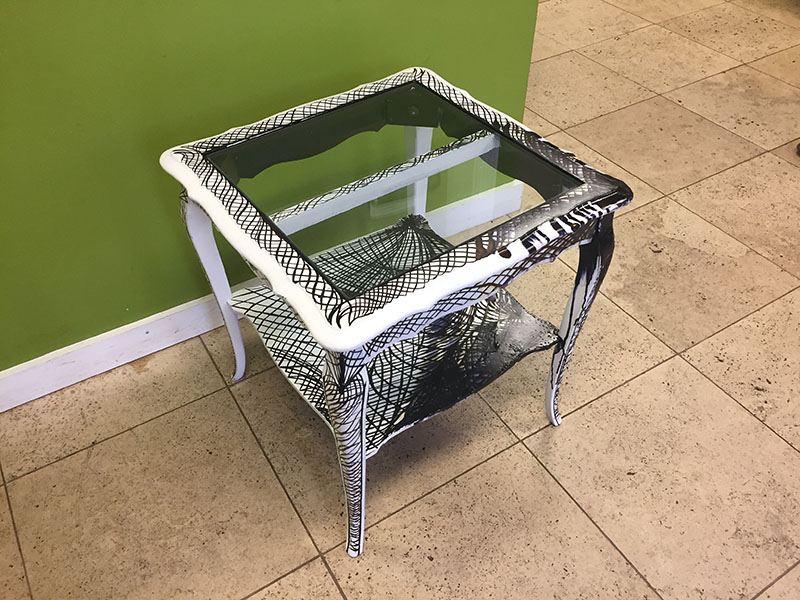 Anthony N Fast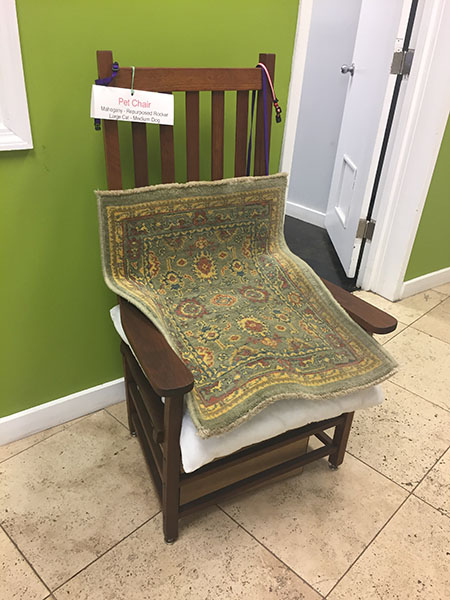 Michael Elliston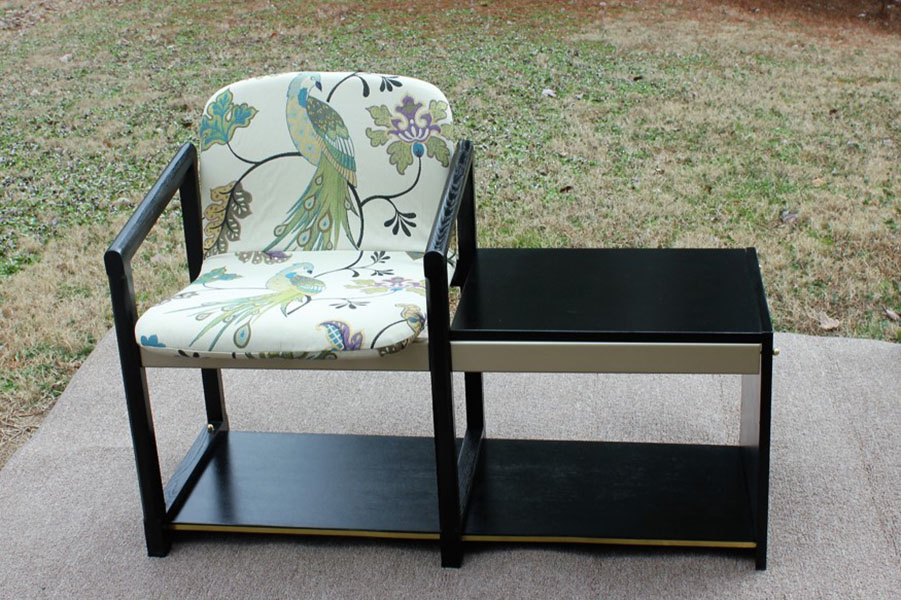 Jessica Ferguson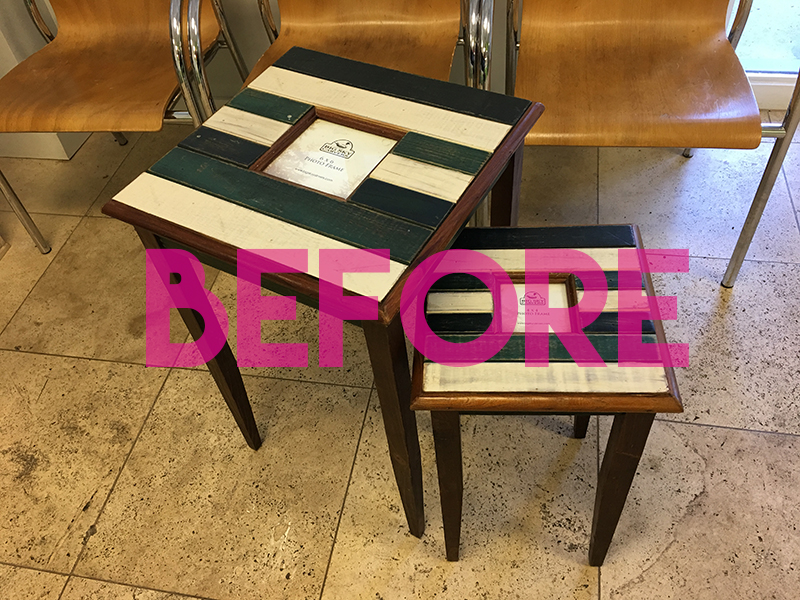 Daniel Flores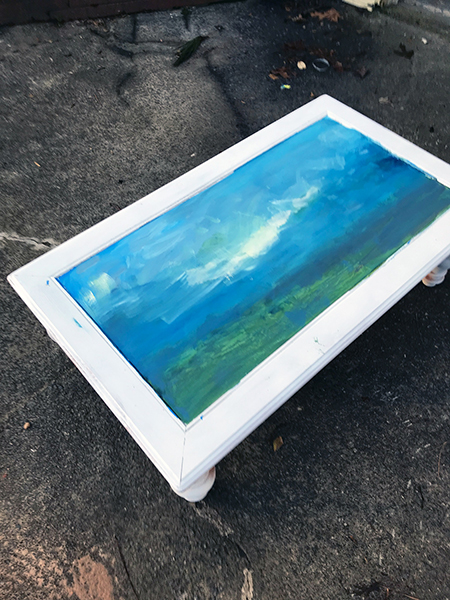 Jim Greenwood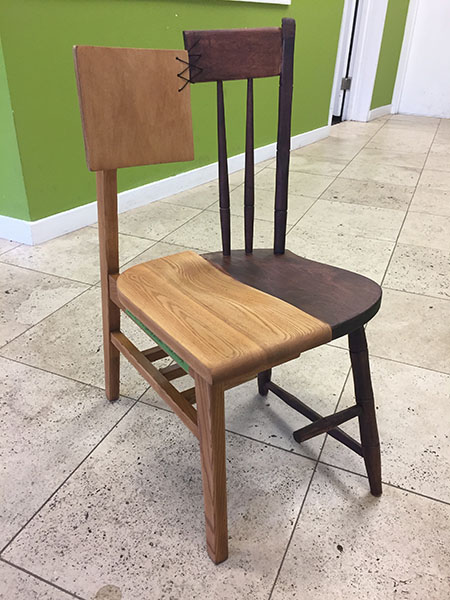 CHRISTOPHER D GUMMO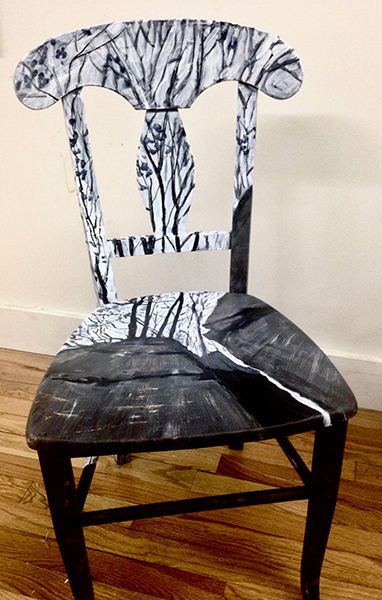 Lisa N. Guyton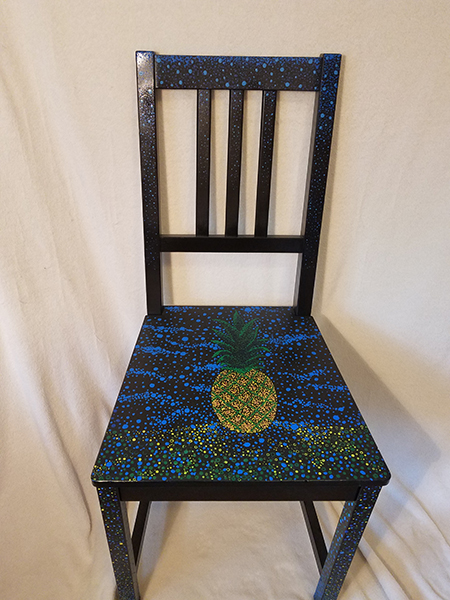 Lindsey Jo Hand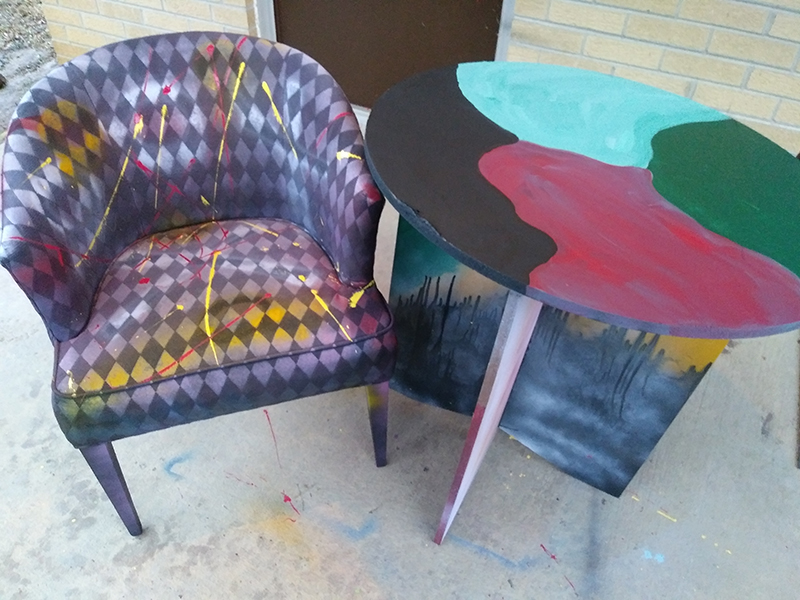 Jody L. Harris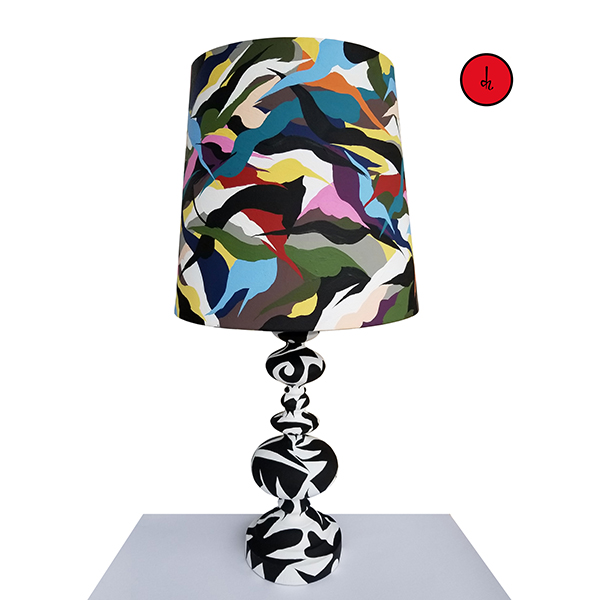 D. HODGES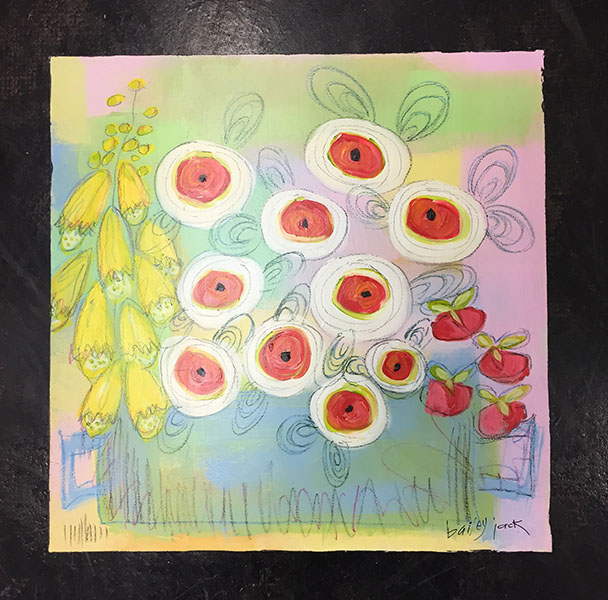 Bailey Jack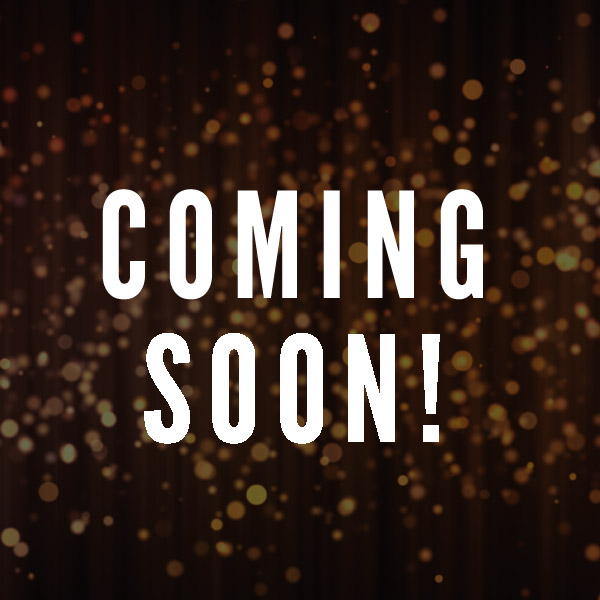 JOEKINGATL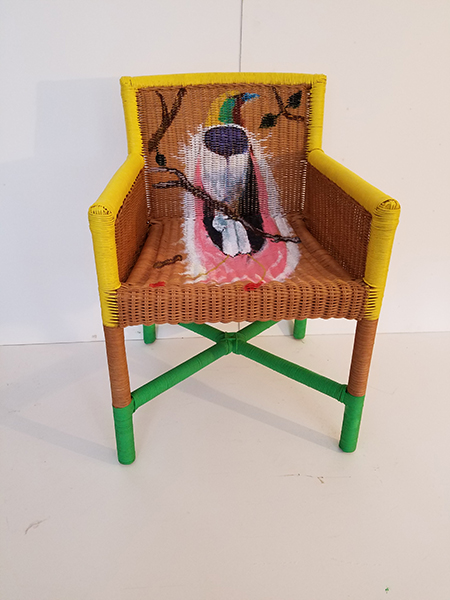 Logan Kearse II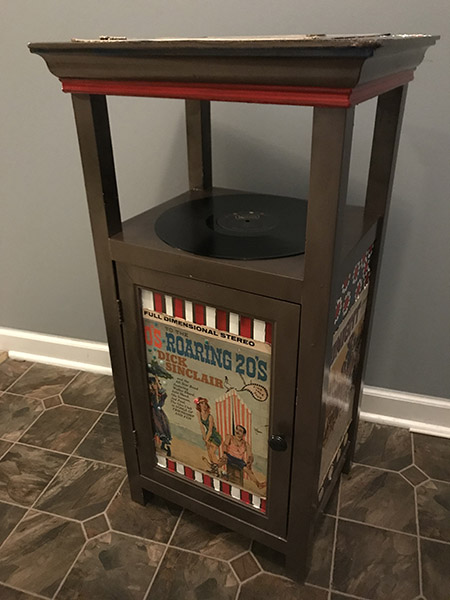 Melody Lafferty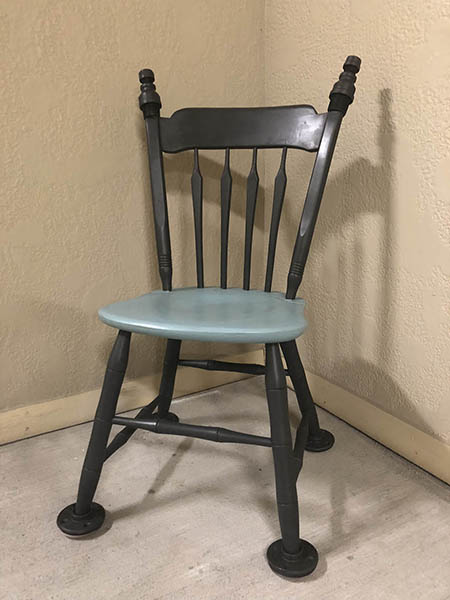 Tanya Lehr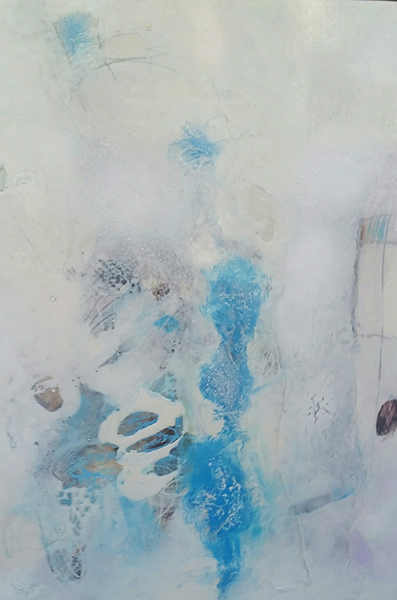 Steve Litvak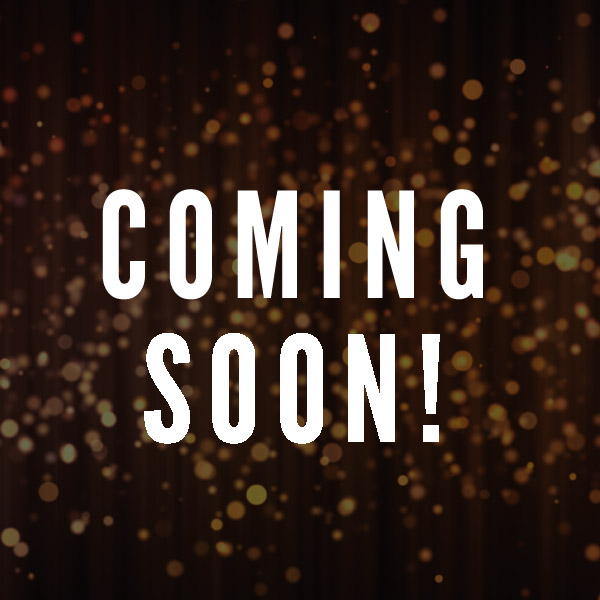 Robert Marinich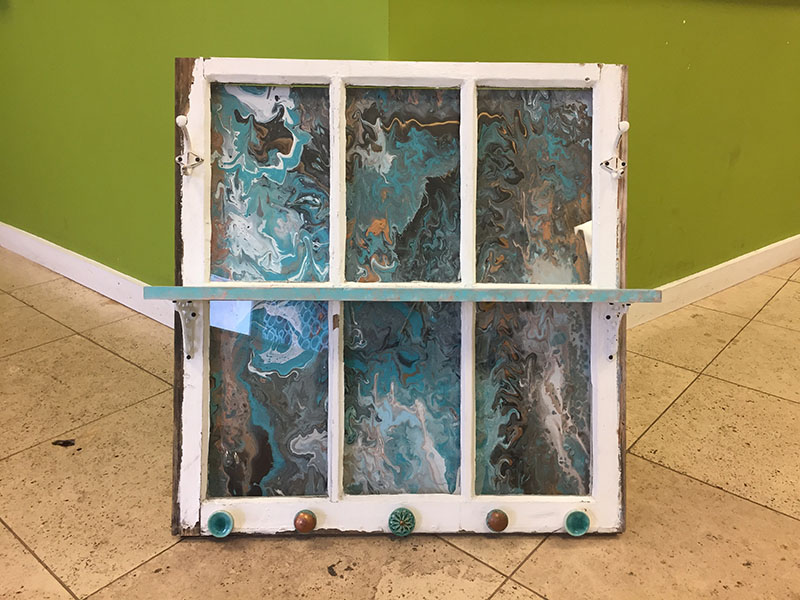 Katie McGuire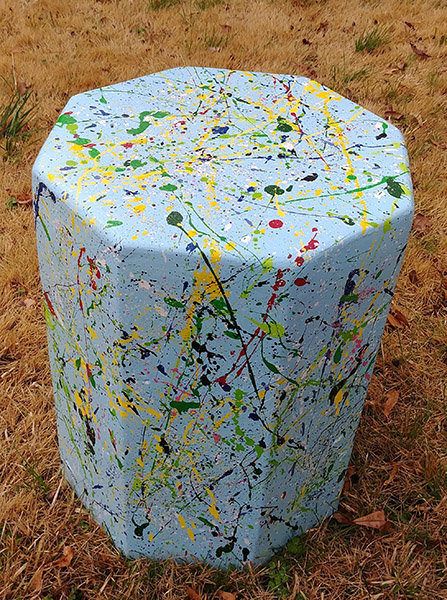 Crystal Mandica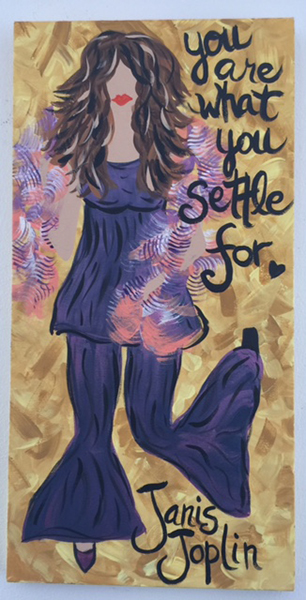 Alicia Mintz
Gretchen Neal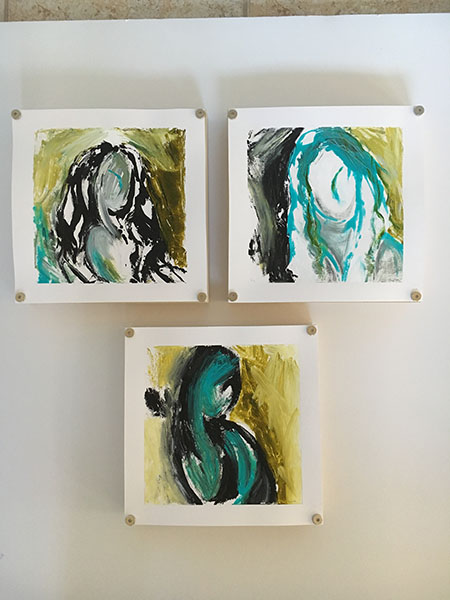 Rene' Moase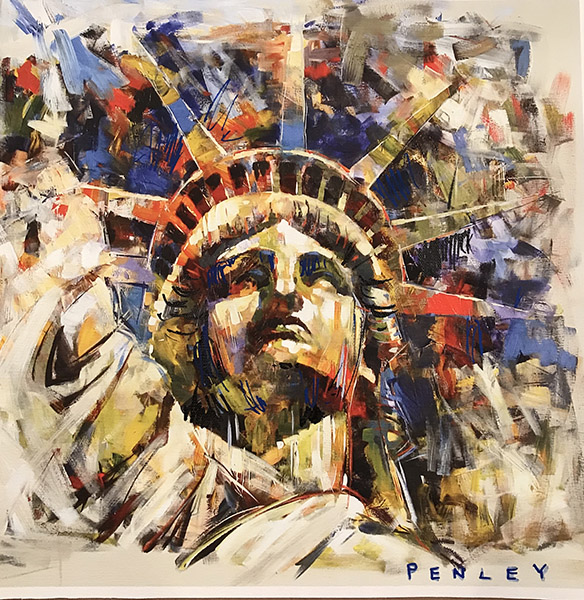 Steve Penley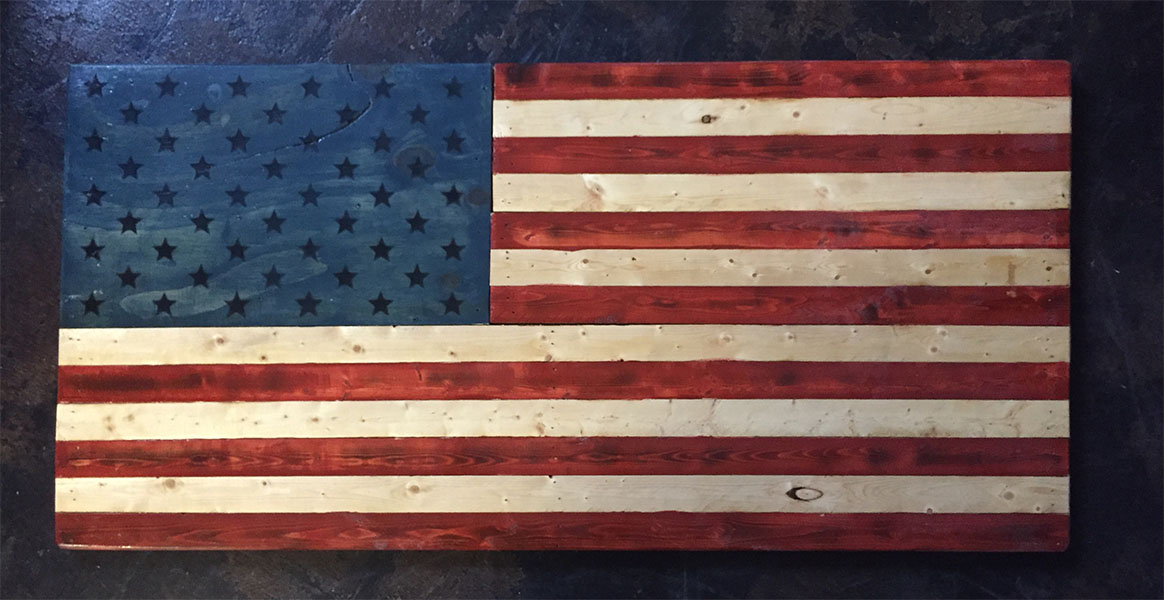 Point Blank Creations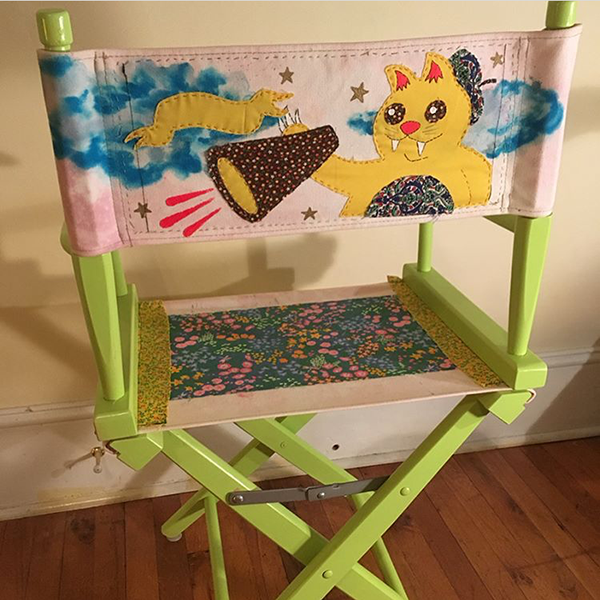 Jeff Rahuba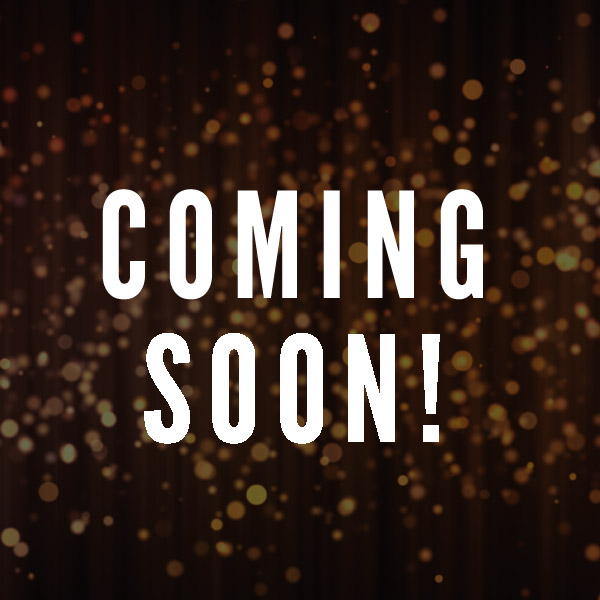 Jaia Robinson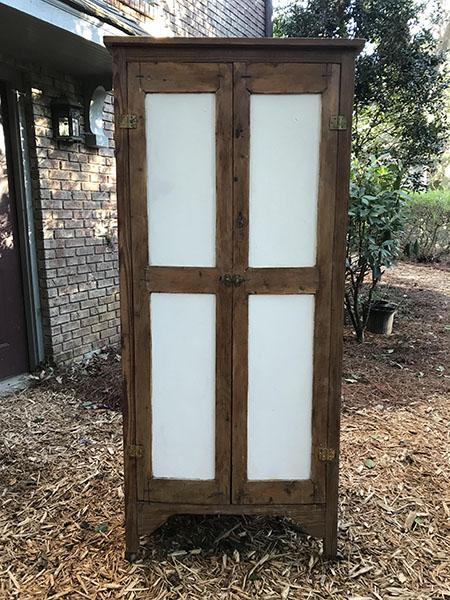 Ashley Rogers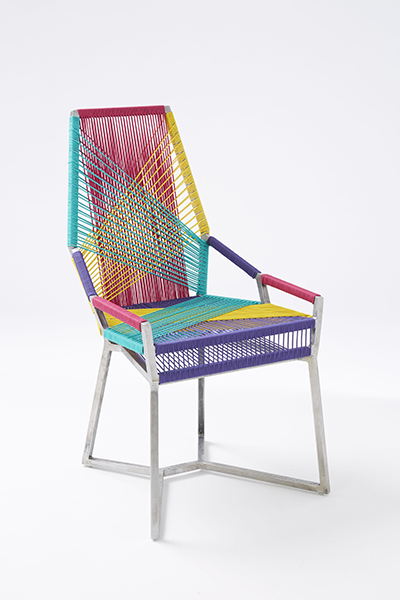 Rooms To Go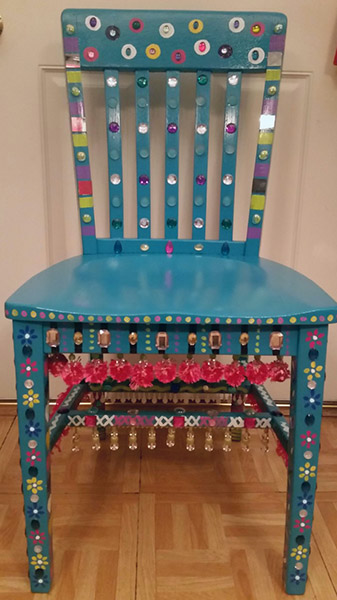 Traci Sampson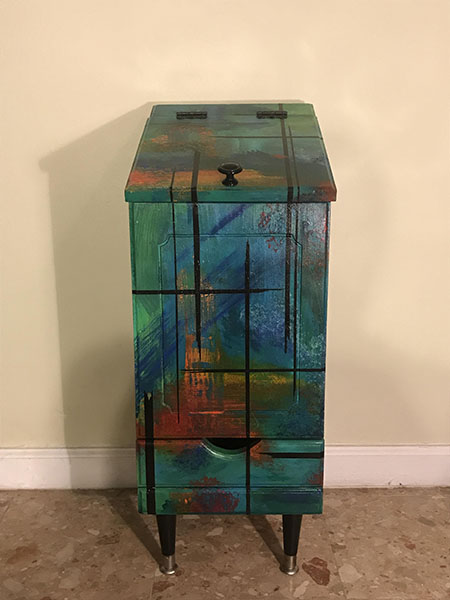 Pam Schutty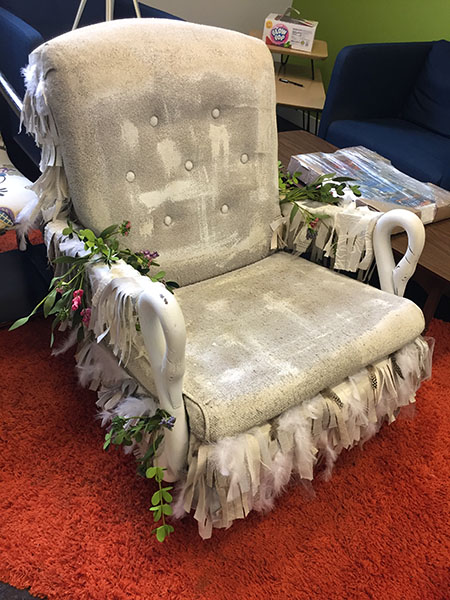 Sellers and Co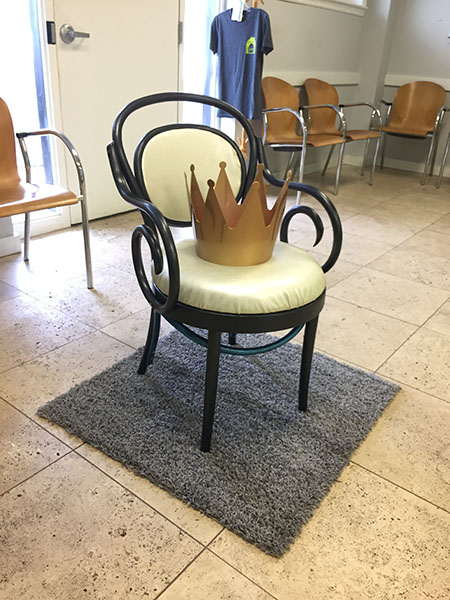 Southern Fried Art Co.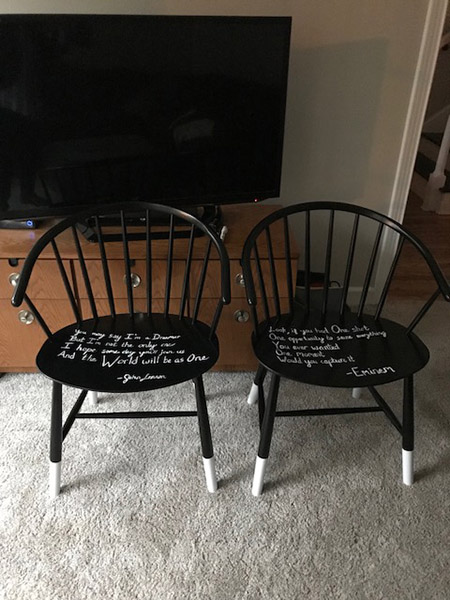 Michele Tharp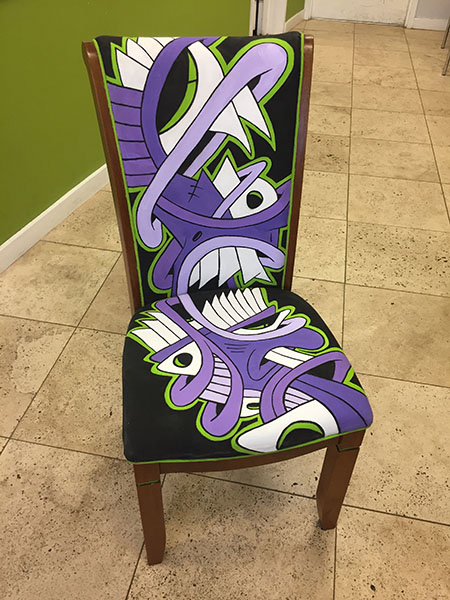 Adam Toksoz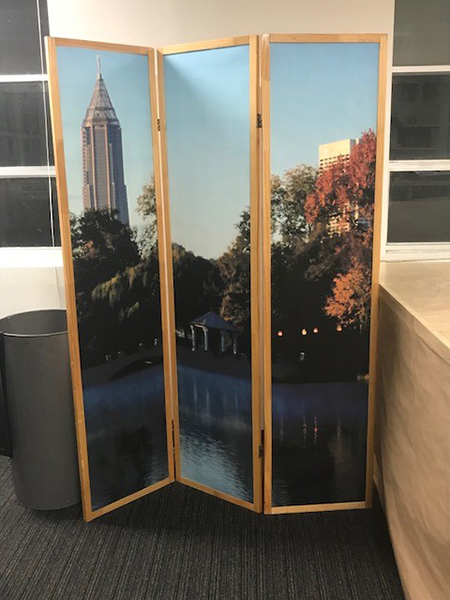 Elizabeth Walsh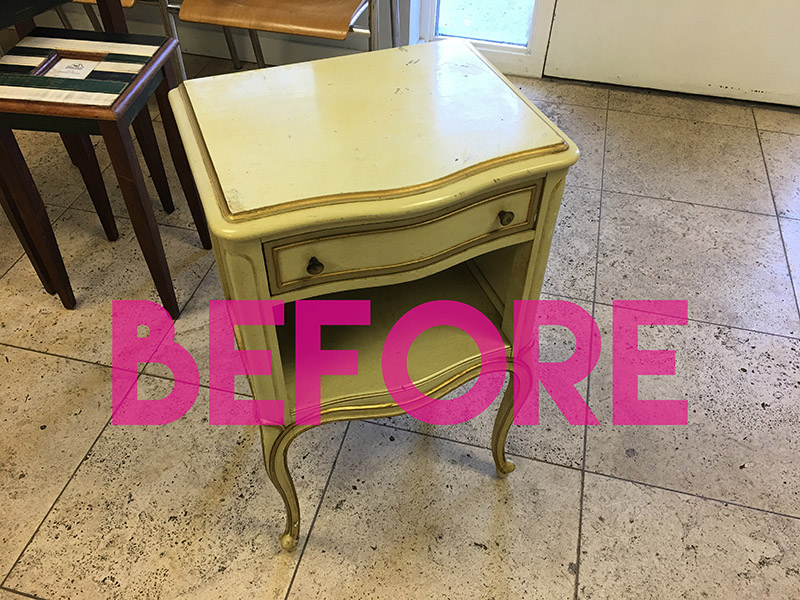 TresFloresss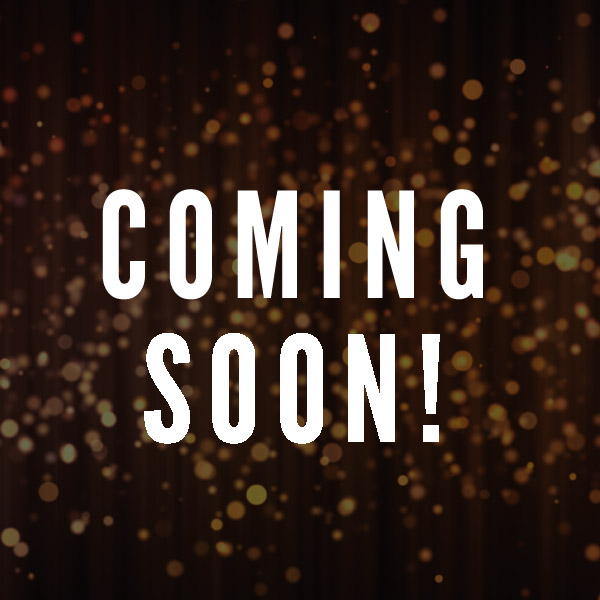 John Wehby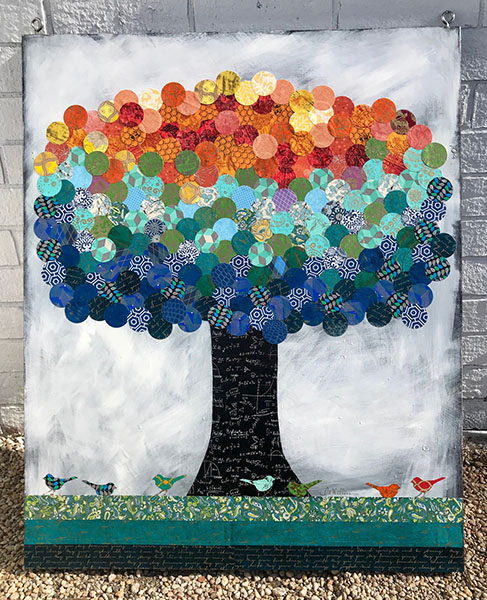 Lala Wellem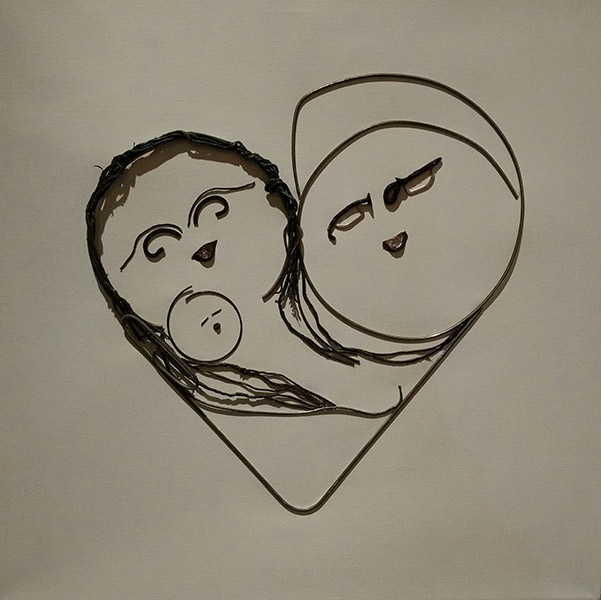 Patsy Yike
Beth Aronoff

Artist Bio
Beth Aronoff was born in New York but considers herself a native Georgian having lived here most of her life. She grew up with an artistic father and, as a teen, became friends with her art teacher at Crestwood High School in Roswell. She attended the Atlanta College of Art (SCAD) before taking several years off to work and raise a family. She now finds time to paint and exhibit in and around Marietta, which she considers her happy place.

Art Piece Description
"Elegance" Beth Aronoff 2017
30" X 48 acrylic & foil on canvas



Shean L. Atkins & Jon Papanicolaou

Artist Bio
Shean L. Atkins is principal designer of Designer Life Interiors - a boutique interior design firm offering services to residential and commercial clients. Atkins has a professional degree in Architecture from Howard University where he also studied interiors. Jon Papanicoloau owns and is the lead artisan at Pop Shop Upholsterers. Pop Shop specializes in fine, custom furniture making and upholstery. Papanicolaou has nearly 30 years in the business of making beautiful furnishings. The team welcomes you to visit their workspace and showroom in Midtown West at 1240 Chattahoochee Avenue, Suite D, Atlanta, GA 30318.

Art Piece Description
Relax, cozy up, and enjoy your favorite episodes of The Game of Thrones in these high-back, fur-draped, wing-back chairs in lush velvet! The perfect seat for a "Netflix and Chill" kinda night!

Bolton Art Gallery

Artist Bio
Matt Bolton is a lifelong resident of West Georgia. Through the medium of painting, Bolton expresses his passion through creativity.

Bolton combines his fine art training from the University of West Georgia with his natural talent to create unique paintings in a self discovered medium he calls, Drippressionism.

Matt has been a member of the Carrollton Artist Guild and has been commissioned for several portraits, murals and paintings.

Matt has participated in several art walks and fine art festivals throughout the Metro Atlanta Area.

Art Piece Description
An old banister style dining chair has been given new life via drippressionism. "Liberty Stars and Stripes" is a piece that speaks to the heart of all Americans. Politically, Socially and Culturally, Let Freedom Ring!



Mary Katherine Capral

Mary Katherine Capral is a native of Mississippi, born in McComb, and spent her adult life in New Orleans, Louisiana, and Atlanta, Georgia. She has four sons and four grandchildren. Kathy began her art studies at the Atlanta College of Art while operating a framing gallery in that city. She has studied under well-known artists Judi Betts, Doug Walton, Don Andrews, and other, and paints in watercolor and acrylics. Her works are in collections in various parts of the United States, Canada, and England.

Sharon Cavusgil

Artist Bio:
Sharon Cavusgil finds energy and happiness creating furniture and art from discarded or old items. She gives new life to castoffs: changing a timeworn dining table into a thin wall shelf or transforming a scraggly but handsome walnut tree trunk into a shiny cosmopolitan coffee table. Her medium of preference is wood, but she also reupholsters, sews, creates jewelry, and paints.

Sharon is a teacher by profession and has worked in higher education for over 25 years. She is also a published author in the area of academic writing and enjoys international travel for both work and pleasure.


Art Piece Description:
Found in the cellar of a friend's Virginia Highlands apartment building, this beat-up and stained wine crate was almost pitched to the curb! Luckily, it found safety in the designer's own basement until this same friend told her about Chairish. Some sanding and staining, a new glass top and wood bottom, and the addition of MCM legs bring new life to this pine crate. May the new owner see the beauty in the 35-year-old wine and paint stains that remain in the old wood!



Sergey Cherep

Artist Bio
Born in Leningrad (now St Petersburg) on January 24 1969, Sergey began studying art as a young child. At the age of 3 he developed meningitis and became paralyzed, unable to walk or speak for several years. Attending a school for children with disabilities until he was 7, he began to find comfort in painting. At the age of 8 he was enrolled in a pre-school for artists and went on to attend college at the prestigious Serevo Institute. There he gained extensive knowledge of all the classic art forms, including European art history, photography, print processes, sculpture, restoration techniques and painting everything from still life to portraits. Sergey has accomplished a signature style which allows his work to be recognised immediately. He rises at 5.30am each day and begins sketching. When he is comfortable with his composition he begins painting. ("Eighty percent of successful painting is in composition" he notes). Sergey produces about 500-800 sketches each year and around 300 paintings. His work now hangs in major galleries internationally.

Art Piece Description
Original oil on canvas Size 12x16 Framed Title "Aspen Trees" Gallery Price $750.00

Sheryl Danner

Artist Bio:
As a young girl I developed a love of antiques and have been an antique dealer/merchant at the Queen of Hearts Antiques & Interiors in Alpharetta for about 15 years now. I love working with beautiful fabrics and vintage/antique furniture, so giving them some TLC by recovering, painting and/or using various painting techniques, and then selling them brings me great joy. I have participated in Chairish the Future for 9 years and am so pleased to help this wonderful organization by participating in this great annual event.


Art Piece Description:
I found a white lacquer chair with an ugly orange seat covering, but knew it had great design elements such as ball and claw feet and beautiful intricate carvings. I painted the chair a pretty cottage cream color and then aged the cream with a nice dark wax. I recovered the seat in a gorgeous French fabric whose design is in keeping with the Victorian feel of the chair. This would be a great side chair for any room in your home.



Creative Thursday

Artist Bio
Marisa Anne Cummings lives and works fulltime as an artist in Los Angeles California with Sean, Garbo, Pepita, Mae Mae and Anderson Cooper {the cat ;)}. Marisa's work can be seen online here at her website. She tweets, instagrams, facebooks and live videos on both Facebook and Instagram. Her work is licensed through Oopsy Daisy, Papyrus, IPop, and sells in select boutiques and stores throughout the country from Urban Outfitters and Land of Nod to Target to Pottery Barn Kids. In 2011 her first fabric line launched through Andover Fabrics with her last collection printed in Japan through Kokka Fabrics. In November 2012 Marisa's first book 'Creative Thursday – Every Day Inspiration to Grow Your Creative Practice' was published. Her coloring book was released in December 2014. Marisa's work has been seen in, Better Homes and Gardens, Where Women Create, Artful Blogging, Home Decor Buyer, Southern Living Magazine, Interview Magazine and on blogs including, Apartment Therapy, Decor8, Poppytalk, Bloesem, Design Sponge, A Cup of JO, SFGirlbybay and Soule Mama. Her art has also been featured in television and film, in shows like Santa Clarita Diet, Up All Night, Criminal Minds, Army Wives and most recently in the movie Ethos and Paranormal Activity 5. Marisa also speaks, consults and teaches in person and online. Marisa's bit of advice {if you're asking}: you know that little voice of inspiration, the one that gets excited when you decide to go a certain direction…follow it.

Art Piece Description
Yellow Elephant + Pink Bunny Canvas, 10 Postcard Set, Lewis the Lion Enamel Pin

Chelsea Daymon

Artist Bio
Chelsea Daymon's work is inspired by her travels, opportunities living overseas, and the beauty of nature. Her specialties include landscapes and animals, particularly pet portraits. She mainly works with oil on canvas and enjoys the process of blending colors into works of art.

Art Piece Description
Painting 1: Horse Measures: 18 x 24 Oil on canvas Painting 2: Cambridge University Back Measures 16 x 20 Oil on canvas

Lainey Dorsey

Artist Bio
After training wolverines in Sasquatchkuatoon for two decades, Lainey Dorsey spent a summer roaming the sewer systems beneath Chicago searching for inspiration, influence, and entertainment. Emerging at the end of her journey, now queen of the sewer people, Dorsey sought to convert the ethereal to terrestrial, telling the tales of her journey through oil, canvas, charcoal, and cream filling.

Art Piece Description
"Front, Wait No, Back." This is a back.

Kim Dowd

Artist Bio
Kim Dowd is a part-time artist (full time corporate finance executive) from the North Metro Atlanta area. She enjoys pottery, refurbishing and refinishing furniture, crafts and mixed media. Kim is also an avid traveler and adventure seeker, which often inspires many of her pieces. One of her favorite parts of the year is creating a unique article for this amazing event. Kim is a four time Chairish artist.

Art Piece Description
Let your imagination travel the world around this adventure-filled side table. Contemplate your next adventure over a cup of coffee or glass of wine, go wherever you desire! Atlanta to China? Atlanta to Paris? Atlanta to Iceland? Map out your journey to the far reaches of the world. Need some help travel planning? Browse the travel pages on the bottom level for maps of interesting sites in exciting cities. Brush up on your Spanish while reading the translation dictionary pages. If you love daydreaming about your next adventure, this is the best accessory for letting your mind wander, before your feet do.

Anthony N Fast

Artist Bio
Tony Fast is an Atlanta calligrapher and scientist.

Art Piece Description
White end table decorated with calligraphic forms.

Michael Elliston

Jessica Ferguson

Artist Bio
Jessica Ferguson is relatively new to the world of art and decorating. For the past 20+ years, she has used her left brain in the cost accounting arena. She now excitedly engages the creative right side of her brain to decorate spaces and create unique art pieces. As the owner of Signature piecez, Jessica uses unconventional products to create light fixtures, art and furniture. Signature piecez has been featured in the Atlanta Journal Constitution, The Atlantan Magazine and has participated in several non-profit projects.

Art Piece Description
An old 2 seat bench was given a makeover and turned into a lovely telephone table.

Daniel Flores

Artist Bio
Daniel "DTM" Flores is a Mexican-American (Chicano) working artist with a 20-year career in digital and traditional arts. His artistry takes form via Graphic Design, Concept Art, Vector Illustration, Pencil and Ink Drawings plus Fine Art Painting. After 4 years in the United States Marine Corps, DTM first arrived to Atlanta in 1994 and immediately involved himself in the arts community. One of his first, of many, endeavors was opening a tattoo studio in the city of Atlanta in 1997, Vantage Pointe Studios, with art partner Lord Yatta. VPS was a place where emerging artists were featured on the wall of the studio every month and won Creative Loafing's Best of Atlanta award in 2002 Since 2004, DTM has participated in well over 25 group ArtShows in the Atlanta Area including "Skater AID", "Chocolate Art" and in galleries sponsored by Binders Art Store, Sam Flax and Herradura Tequila. In 2005, one of DTM's first Azteca Moderno pieces made it into the Art Beats and Lyrics art exhibit at the High Museum of Art in Atlanta. In 2011, DTM jumped into acting with The Walking Dead on AMC for one episode and since then he's been featured in several movies (Triple Nine, Let's Be Cops and DayBlack) and TV shows (Constantine, Complications and If Loving You Is Wrong) as a mean looking dude. DTM's art has been featured in magazines and online interviews, including a bit on the 2012 July issue of ImagineFX Magazine, an English art magazine. He is also a founding member of the arts community non-profit organization Art Is King and is the curator of the free monthly MeetUps designed to bridge the gap between creative skills and business education to empower the artist to thrive. The Art Life is so important to DTM that there is a comic book and mobile game in progress that features lessons learned as a professional artist. There is more to come...

Art Piece Description
I have been exploring the Art of Aztec History, Mythology and Deities since coming across my first Aztec mural in the streets of my neighborhood: East LA. Born and raised in East Los Angeles, my Mexican history is evident in the multitude of murals and art in our neighborhoods. Many a mural tell the story of the Aztec Gods leading the Nahuatl people across the continent, from the mythical land of Aztlan to the south towards modern day Mexico City, to the city-state once known as Tenochtitlan. Spending my early childhood in the classroom in Mexico City, I listened to the stories of Aztec victory and defeat at the hands of Spanish Conquistadores and Hernan Cortes as told by an emotional and very animated history teacher. Stories of bravery by the last Aztec Emperor Cuahutemoc and great battles of Aztec Warriors defending their home, made for vivid images in my young mind. There were stories of Tezcatlipoca, God of Destiny, Quetzalcoatl, God of Learning and Creativity. The code of the Warrior was as important as following the leadership of Huitzilopochtli, God of War. And never forget Tlaltecuhtli, Goddess of the Earth and Tonatiuh, the Sun God. As a Mexican born in the USA, A Chicano, myth, history and reality are intermixed in our everyday lives. The travels of the Aztecs form a mythical land to their god-chosen empire, the travels of our parents on a quest for a land of opportunity. The stories of Aztec Deites living very emotional and at times- terrifying lives, the stories of Mexican Heroism and the Mexican Revolution told by my grandmother. Myth and History have no beginning and no end. We are part of that Myth, we are the continuation of that History. Azteca Moderno is my interpretation of those myths into modern day physical realities thru my creative expression of art.

Jim Greenwood

Artist Bio
Jim Greenwood paints as if there's no tomorrow. In fact, as his eyesight continues an inexorable decline, he is in a race against time. Jim suffers from Retinitis Pigmentosa (RP), an incurable eye disease that leaves the retina covered with pigments and then scarred. First comes the loss of night vision. Then loss of peripheral vision. Then loss of central vision. The retina controls the ability to read, recognize faces and colors and to see objects in detail. "Being color blind, I use only red, blue and yellow on my pallet and mix them to get the desired hue. It's the only way that works for me." He is now legally blind having only ten percent of his vision remaining. His work is stunning. It's not mere expressionism. There is form and content. Shapes are loosely defined, objects are at times unrecognizable. The effect is emotional. One wants to stare at his paintings. They are, in a way, like life is to those of us who are not legally blind- indistinct and mysterious. There is a revelation in them that truth is not in the details. Rather it is shrouded in vagueness.

Art Piece Description
#1: Original oil painting on surface of 50 x 30" coffee table. #2: Original oil painting, on canvas "Hope Everlasting" measuring 30 x 24"

CHRISTOPHER D GUMMO

Artist Bio
A handshake, direct eye contact, a passing conversation. These are the cues that inform my work. Through sculpture, mixed media, and audio/visual forms, I aim to examine in granularity the exchange of gestures and emotions, and examination of self. My past work in furniture design and architecture has given me an appreciation for form and function. Pairing form and function with storytelling allows me to explore a version of the self through a new lens.

Art Piece Description
"Conversations" Two chairs of contrasting design, of different ages, dissimilar wear and experience, are reconstructed to support their capacity (the ability or power to do, experience, or understand something).

Lisa N. Guyton

Artist Bio
I'm an art teacher and an artist. I work in a variety of media and even in a variety of styles, however, I am always striving to achieve something authentic, whether from direct observation or from memory and gesture.

Art Piece Description
Black chair with snow scene painted on the chair.

Lindsey Jo Hand

Artist Bio
Lindsey Jo is a lecturer of communication and media studies at Kennesaw State University. In her spare time, she enjoys hiking, playing piano, and painting. She also serves on the Young Professional's Board with the Furniture Bank.

Art Piece Description
#1: Sharp Mountain Vineyard (oil on canvas of Sharp Mountain Vineyard in north Georgia) #2: Pineapple Dreams (acrylic pointallism pineapple painting)

Jody L. Harris

Artist Bio
Jody Harris is a native of Georgia who has created art the past 30 years via different outlets. He is a graduate of Georgia State University & has shown work all over the country. From painting to sculpture to graffiti, multiple styles are used in his work. This is a small ode to jackson Pollack, pop art & abstract art all rolled in one.

Art Piece Description
The splash effect is a nod to jackson Pollacks technique of making art. The chair is painted with spray paint & acrylic paint. The elements combined are supposed to mimic the splatter/splash paint look and stylize this piece even more. Objective wise, the simple layout of abstract imagery & patterns of the chair should allow the colors to pop.

D. HODGES

Artist Bio
D. Hodges is an Artist/Designer based in Atlanta whose definition of a canvas spans beyond a piece that just graces a wall. Hodges turns multiple objects into art exhibits by fusing distinct fine art with functional pieces. Hodges created a signature pattern that can be seen on fashion,accessories,footwear,furniture, bodies; etc. His work has been featured on GSN's Skin Wars: Fresh Paint, Jack Daniel's Art Beat & Lyrics traveling art and music exhibition, as well as other entities. Hodges created an abstract style that represents growth & elevation; and he articulates this through his signature pattern that consists of crosshatched color streaks. The creative pattern signifies creative power crossing paths -- which is part of Hodges' philosophy of growth and elevation. He uses this pattern to speak to the creative-souls and practitioners of growth and elevation by implemented this powerful pattern into his work.

Art Piece Description
"Colorful Beacon" represents radiance, vibrance, and good energy. Objects that emit light are powerful, and when art is merged they become a creative power -- which is the driving force of life!

Bailey Jack

Artist Bio
Born and raised in Atlanta, Georgia. Worked in corporate world as first career. Met with a Life Coach to begin a shift - a new career - a real career - doing what I was meant to do and what I believed I'd enjoy doing. I have chosen the ability to paint ideas that come my way and turn it into my life work. I've discovered one constant fact about human nature - people enjoy looking at art, discussing art, and choosing art of their choice. People enjoy one of a kind piece of art to take home and view every day. I am still amazed how customers and shoppers and first timers take time from their day to visit an art festival or an art exhibit to observe and enjoy the crazy things artists produce. I am a Southerner and have raised 3 sons. I am self taught as a painter because I jumped in with both feet to meet my new career head-on. I embarked on a career painting only what fascinates me. From St. Francis to Princess Leia . I enjoy being around some fellow artists that are beyond fabulous thinkers and painters. I am amazed I am in the same shows and galleries with painters I admire.

JOEKINGATL

Artist Bio
"PEOPLE ARE MY MEDIUM" JOEKINGATL is a multi-disciplinary artist with a background in architecture, graphic design and photography. His work spans from street art to fine art and celebrates people and their communities. He has created work for the High Museum, Museum of Contemporary Art Georgia, the Education is Not A Crime campaign, and The Arthur Blank Foundation to name a few.

Art Piece Description
Before: LOOP Chair designed by Cédric Ragot Chair made by poly-carbonate injection (gas moulding technique). Available in 6 translucent colors, with ABS leg bases available in 4 metallic colors. Stackable chairs.Dimensions: W. 53 x H. 84 x D. 55 cm (20.9"w x 33.1"h x 21.7"d) After: Shadow Loop Chair

Logan Kearse II

Artist Bio
I'm an Atlanta based artist whose had a long and rewarding experience creating art in Atlanta. Arrived here in 1972 to attend Clark College at which time I became involved in the arts community. I began honing my talents at the Neighborhood Arts Center where I met and worked with some of this city's most innovative and socially active artist. Worked with group of creative minds in the development of The Arts Exchange, the nonprofit organization dedicated to multicultural art and social activism. I have exhibited nationally and have works in many personal collections. I have created and executed murals at various locations along with art installations in several businesses and other locations. My art ranges from multimedium paintings: portraits and abstract works to Freeform driftwood sculptures and art furniture. I have worked as an nonprofit arts administrator and I am a certified picture framer and designer. I continue to exhibit and accept commission request.

Art Piece Description
This contemporary take on the wicker chair seemed to be calling for a image of a tropical something. After listening to the chair, it made itself clear that it wanted to reflect it's spirit of Freedom and Beauty. The resulting image is entitled "Bird of Paradise".

Tanya Lehr

Artist Bio
Tanya is inspired by her passion for design - from graphics to interiors to architecture - she always reaches beyond the expected and attempts to mix different aesthetics to create pieces and spaces that are inspiring.

Art Piece Description
An updated paint job, some natural distressing and a few plumbing fixtures transforms a 1980's desk chair into a conversational souvenir. Complete with added accessories to hold household items, the chair combines industrial aesthetic with added function.

Steve Litvak

Artist Bio
The brilliance of color and composition often presented in classic landscape masterpieces inspired my current work. My goal as a painter is to take traditional aspects of light, shadow, and color and infuse them with abstract geometric. The process of merging modern with traditional techniques will often breathe a sense of familiarity to the viewer, leaving them with a comfortable visual experience.

Art Piece Description
Abstract in Resin and Mixed Media on Wood

Robert Marinich

Watch an artist paint a work of art right in front of you, and bid on it to take it home at the end of the night!

Katie McGuire

Artist Bio
Katie McGuire was born in Atlanta and currently resides in Candler Park where she works as a nanny. She started her career with the in town YMCA's managing the summer art camps. She is a 4 year and counting member of the Free Art movement here in ATL (#FAFATL). In her spare time she enjoys reading, painting, embroidery and cooking!!

Art Piece Description
A salvaged window pane repurposed as a shelf. With a back lay of particle board that has an acrylic medium, lights and fun hooks and knobs!

Crystal Mandica

Artist Bio
Crystal Mandica is a Florida-born artist and photographer, who has been creating visual art for 15 years. Most of Crystal's art is abstract in style, although wholly derived from nature. Crystal has created mixed media paintings over the years, but especially enjoys working with oil on canvas. Crystal is also a musician, wife and mother. She and her family live in Decatur, Georgia.

Art Piece Description
#1: Abstract, Acrylic on 2-tier wood coffee table #2: Abstract, Acrylic on plaster accent table

Alicia Mintz

Artist Bio
Alicia Mintz is a born-and-bred southern gal currently living in East Atlanta Village. She discovered her passion for painting in her 30s. Her catalog is built by her determination that each creation should inspire, beguile, and promote a smile. She is known for her use of color, humor, and whimsy, as well as adding a little "sassy" to each of her works. Primarily working in acrylic and watercolor, Alicia shows and sells original art locally. In addition, she also creates colorful, custom pieces for private clients nation-wide manifesting their ideas into treasured keepsakes.

Art Piece Description
#1 Janis, number three in the Warrior Women series, an original piece in a series of strong women and feminist icons. 12 inches by 24 inches, acrylic. #2 Why not combine great artists and cats? Welcome to "The Meowseum"! A colorful and mischievous Henri Meowtisse joins the other cat artists such as Pawblo Picatsso, Andy Hairbohl, Frida Katlo, and Jackson Pawlick in a collection which clearly indicates the artist delights in whimsy, cats, and cocktails. This 2016 original 18" by 24" piece is the second work of the 1st set of "The Meowseum" series. It has been reproduced in prints, and is now retired.

Gretchen Neal

Artist Bio
Gretchen Neal is an Atlanta artist who works in a variety of mediums. She has taught art classes, workshops and art camps in Atlanta and Ormond Beach, Florida for the past 28 years. Her passion is to help create a love for art among her students, both the process and the finished product.

Art Piece Description
#1: Mixed media using acrylic paints and hand printed papers cut into creative patterns. Sealed to preserve the original art surface. #2: This is the perfect table to launch and land your very own drone. Drone, controller, charger and instructions included. The table has been textured using multiple paint techniques and embellished with custom designed labels.

Rene' Moase

Artist Bio
I combine freestyle Chinese brush painting with impressionist and abstract styles. My interests are diverse as is my subject matter and I'm always enthusiastic to try something new. Please visit my website and feel free to contact me with any questions. Thank you.

Art Piece Description
3 Pieces; 2 acrylic monoprint/paintings, 1 acrylic print/painting 2/2. Image size 8" x 8" on 10" x 10" paper, displayed on wood panels with a 1 1/2" profile.

Steve Penley

Artist Bio
Stephan Lyall Penley was born into a family of musicians in 1964 in Chattanooga, Tennessee. The Penley family moved to Athens and then to Macon where Steve graduated from First Presbyterian Day School. Steve continued his studies of art at The School of Visual Arts in New York and at The University of Georgia. After college, Steve was working odd jobs while painting when his talent was recognized by an attorney and art enthusiast, Robert Steed. Steed's friendship and patronage helped Steve connect with many other clients and grow his business. Penley quickly gained recognition for his bold brush strokes, vivid colors and historical icon paintings. Steve's notoriety quickly increased and now he is one of America's most celebrated artists with works exhibited worldwide. Steve has created many projects for Fox News, major companies such as Coca-Cola, AirTran/Southwest, Kaiser Permanente, as well as several U.S. Presidents. Penley has authored several books of his own and illustrated books including several authored by Coach Vince Dooley. He has received a number of awards and honors for his talents and has donated countless paintings to charities and organizations in his community and state, as well as across the nation. He especially considers it an honor to be involved with numerous organizations that benefit our service men and women as well as our veterans. Steve is proudest of his role as a father of three very talented artists and musicians: Lyall, Abbey and Parker.

Point Blank Creations

Artist Bio
In 2014 my wife came home and said "I have a ton of pallets at work that I have to dispose of, can you make something out of them?" So, I decided to make a cornhole set. While making the set in the loading dock of our condo someone from the building came up and asked if I could make them one too. So on and so forth until our first Festival in August 2014. We have had resounding success at the festivals, bridal shows and holiday markets and have continued ever since. Our ongoing joke/motto is " if you can play and drink while doing it, we will make it."

Jeff Rahuba

Jaia Robinson

Artist Bio
Jaia Robinson, noted as a talented abstract artist, is emerging steadily in the art world. Her art embodies a vibrant use of color and texture. Jaia's art creates a positive environment, dealing with healthy emotions. Her work is a collaboration of motion and stillness. Jaia received her BA in Art from Clark Atlanta University. While in school she began teaching. She understands the importance of arts in Education and uses it as a tool to promote academic success. Jaia's art is featured in private collections across the country, her art has also transformed into Fashion, having her custom shirts featured in boutiques domestically and internationally. She was also a featured Artist at the 100th year anniversary for the NAACP.. Jaia an ambitious traveler, has had the opportunity to be mentored by some of the world's greatest artist. While in Europe she visited many studios and was inspired by the cultural diversity that she saw. Jaia believes that art can change the world and make it a better place, and is doing her part every day to make this a reality.

Art Piece Description
Multi color vibrant chair with distinctive bold positive words.

Ashley Rogers

Art Piece Description
This Antique Early American Pine Painted Armoire was carefully restored to be enjoyed as a children's wardrobe or a clever place to store your television. Used in a bathroom, it would make an ideal linen closet piece. The Italian lettering wallpaper lining the inside adds a whimsical twist to this charming piece.

Rooms To Go

Artist Bio
We are the creative team for the Rooms To Go Photography Studio. Our team is composed of interior designers, set and furniture designers w/ over 20 years of working in the industry. We design, build and style the rooms, then photograph for print ads, catalog, web and social media use.

Art Piece Description
"Heartstrings"- Used in reference to one's deepest feelings of love or compassion. We stripped our Rooms To Go chair down to the frame. Using the lines of the seat and back, we reconstructed a hollow silhouette from metal tubing. Using an array of different color para-cord, we wrapped and weaved the frame in a string-art fashion.

Traci Sampson

Artist Bio
Traci Sampson is an Atlanta native and the owner of Traci with an Eye Graphic Design, LLC. She has been a graphic designer for 19 years and has a Bachelor of Fine Arts degree with a Drawing and Painting concentration from the University of Georgia and also attended Kennesaw State University for Graphic Design. She has a love for art and interior design so decorating these chairs each year for Chairish the Future brings her passions together beautifully!

Art Piece Description
This solid, wood frame chair has been painstakingly painted by hand using different techniques with colorful acrylic paints. Then, the chair is meticulously blinged out with a multitude of beautiful jewels and stones. The finishing touch is all of the gorgeous, drippy trim highlighting the lines of the chair and making it pop, giving it it's name: SomeChair Over The Rainbow!

Pam Schutty

Artist Bio
Pam is a self-taught artist, born & raised in Montana. She lived throughout the west coast before moving to Atlanta in 2000. Pam's art dances a colorful line where orchestrated intention blends with the organic abstract. She possesses a voracious appetite for experimentation and explores all mediums: acrylic paint and canvas, woodwork, molds and casting, lettering, metalwork, charcoals, ink, and aerosol. She holds a business degree from KSU and works in corporate finance for a Fortune 15 company. She does not say "Y'all".

Art Piece Description
This old fashioned potato bin and onion drawer received a fresh face lift and is meant to hold... whatever your imagination deems necessary. Is it a toy box? A shoe box? A porch box for receiving packages? A box to hold pet food + a bowel? A box for sports equipment? Think outside the box; the the options are limitless. Acrylic on wood with protective clear coat.

Sellers and Co

Artist Bio
Residential interior designer who focuses on renovations bringing forth the existing character and beauty in her projects with creative thinking and a wholistic vision to design.

Art Piece Description
The Ugly Duckling: The goal with this project was to use "trash" to create a treasure. In our personal lives and professional, we want to celebrate the past and the story that has created us. Our chair's theme was inspired by the beautiful wood working of the swans in the chair arms. We used elements from our interiors resource library to help illustrate the transformation from an "ugly duckling" into a swan.

Southern Fried Art Co.

Artist Bio
Having graduated from The Atlanta College of Art with a BFA in Communication Design and GA Tech with an MS in Industrial Design, Jennifer Germain has worked in the corporate world to small design firms, and everything in between. She found that being in charge of her own destiny was the balanced path for herself, and has formed her own companies since: Red Hair Girl Designs (left-brain design) and Southern Fried Art Company (right-brain design). She also likes clothing and jewelry, and has recently expanded with several small businesses for those items, as well. Her most challenging and rewarding job to date though, is the one with the title of MOMMY. Jennifer is grateful to the Furniture Bank of Metro Atlanta for humbling her with being an artist for CHAIRish the Future since 1997, to which she holds this non-profit near and dear to her heart.

Art Piece Description
Reflection Time is a piece that was inspired by both my 3-year-old son and the time and space I slip into while transforming a piece. We practice Reflection Time in our household when times go awry, or the little one needs to stop and take a second... Instead of a "time out" where he sits in a corner, we ask him to go somewhere and "reflect" on why it's necessary to take a break. Now, fast-forward to me; an adult who's been around the sun a few times. While transforming pieces for CHAIRish galas, I tend to slip into my own sort of Reflection Time. Time to think, relax, and take a step back as I let go and work. Each year I choose to take an existing find and give it a new life; to upcycle a piece, and potentially keep it out of a landfill. Typically I strip any pieces down to the bare wood, clean everything up, and start building again from scratch. The pieces typically tend to take on a new look, and get any reinforcement if needed. They still have the same basic shape and structure, with different finishes and dressings, maybe even new hardware. I find that the space I tend to slip into while working on CHAIRish pieces is rather ethereal, and reminds me of the universe. To represent: black metallic paint reminds me of the vastness of space, gorgeous stars, and planets flickering... the glittery blue band of paint reminds me of a far off galaxy, maybe even our own Milky Way... the white, silvery material reminds me of gasses and clouds that surround some of the galaxies in photographs I've seen. As one sits in the Reflection Time chair, I would hope that they would take a minute to slip into their own little universe while taking a second out of this very busy life we all seem to lead these days. And as my son stated, "The chair feels good on my bucket!" when he sits on it! Enjoy YOUR Reflection Time!

Michele Tharp

Artist Bio
My 18 years at Turner in the Interior Management department has provided me with opportunities to upcycle and donate furniture and materials to nonprofit organizations and schools in need. I enjoy revitalizing their office space and classrooms. I am also a board member of Project Live Love which is a nonprofit that engages the community to volunteer and live love to one another. I am inspired by optimism, music, love, and desire to help others.

Art Piece Description
Two Danish Design Store chairs model #J64 made by Fredericia Furniture. These chairs were upcycled with some character. I have combined my love for quality Scandinavian furniture and iconic lyrics from two of my favorite artists.

Adam Toksoz

Artist Bio
Artist/Illustrator/Screenprinter/Painter from Atlanta, Georgia focusing primarily on semi-abstract graffiti style characters using bright colors,bold lines & the monsters in my head.

Art Piece Description
Acrylic paint on fabric & wooden chair.

Elizabeth Walsh

Artist Bio
Neither of us are 'artists' but we both like to think of ourselves as crafty, in addition to wanting to contribute to a worthy organization. Both my house and my daughter's apartment are eclectic mixes of inherited/purchased/found/transformed items.

Art Piece Description
This was a mother-daughter project to contribute to the Atlanta Metro Furniture Bank Chairish auction. We wanted to make a useful, Atlanta-oriented piece that could, hopefully, fit in many different places. The room divider came from Craigslist; the Atlanta Skyline pic was provided by a friend and the idea to add neighborhoods to the back 'squares' came from Ema.

TresFloresss

Artist Bio
I like flowers and I like art. I watched my mother grow beautiful lush gardens and flowers to relieve stress. When she passed away, I realized that I could find peace in gardening as well. Making something grow from nothing, somehow brought me peace. In the beginning I started with taking pictures of flowers. I learned more about nature and enjoyed the peacefulness. My family is full of artists and I actually never thought that I had any artistic gifts. I am a passionate art collector, appreciator, and arts advocate. I've involved myself in the arts in my local community and wherever I could contribute in a supportive manner. I love the theater, I love musicals, and the symphony as well. I like intimate venues where I can absorb the art form. I was impressed by the charitable offering of the Atlanta Furniture Bank and the creative fundraising of Chairish. I watched my artist husband transform furniture into art and it gave me a spark. I wanted to try my hand at it. I have been taking photos of flowers for over 6 years and I wanted to see if what the universe bestowed upon my husband, brother, sisters, nieces and my own daughter…well, maybe there was an inkling within me. I set out on my aventura of discovery. Could I transform a piece of furniture into something lovely? It would of course have a flower on it. Math in Art: The Indian Kolam dot geometry design resonates with me, as I am a technologist and engineer by trade. In this piece I present Flora Kolam Mati: The Knowing Flower.

Art Piece Description
#1: Nightstand with one drawer. Design: Floral Kolam dot geometry design with royal blue/green color palette. #2: Indoor/Outdoor Table. Design: Floral Kolam dot geometry design with fuera pink/orange color palette.

John Wehby

Lala Wellem

Artist Bio
Lala Wellem creates eco-friendly, mixed media artwork using paper, wallpaper, banana leaf, cork, wood veneer and acrylic paints. In addition to being a contributing Chairish artist for the past 10+ years, she recently participated in the High Museum of Art Holiday Artisans Market.

Art Piece Description
#1 Tree of Dreams: This door slab was purchased at the Habitat for Humanity ReStore and cut down to create this 2 sided art piece. One side includes a multi-colored tree, which is Lala's signature design, and the other includes her personal mantra, "Are you living your dream or still dreaming of living?" #2 ARTlanta: 40"X36" canvas featuring Atlanta neighborhoods, created with paper, wallpaper, and acrylic paints. #3 Table: Side table embellished with paper, wallpaper, and epoxy resin. #4 How many birds is too many birds?: Individually, hand cut birds made from paper, on a magenta table, & finished with an epoxy resin.

Patsy Yike

Artist Bio
Metal sculptor attempting the art of SynchroImagery - The synchronistic occurrence of images which appear in life experience as well as in the artistic endeavor with no discernible causal connection.

Art Piece Description
#1: The Heart of the Matter - 20" x 20" metal sculpture on canvas #2: Spring Forth - 20" x 20" metal sculpture on canvas #3: Sunrise, Sunset - 12" x 24" metal sculpture on canvas #4: Celebration - 12" x 16" metal sculpture on canvas #5: Rusty Shine - 16" x 16" metal sculpture on canvas #6: Really Got a Hold on Me - 11" x 14" metal sculpture on canvas #7: Petite Angel - 8" x 10" metal sculpture on canvas #8: Small Angel - 12" x 16" metal sculpture on canvas #9: Medium Angel - " x 16" metal sculpture on canvas #10: Large Angel - 10" x 20" metal sculpture on canvas #11: Extra Large Angel - 16" x 20" metal sculpture on canvas